Vzpomínky na squat Palác Sofia
Na Slovensku v Žilině fungoval squat Palác Sofia. Přestože již neexistuje, zanechal v hlavách jeho bývalých obyvatel a návštěvníků mnohé vzpomínky. Jedním z jeho obyvatel jsem byl v roce 2009 i já. O místě jsem sepsal několik svých vzpomínek a sestříhal krátké video.
Palác bez pozlátka luxusu
Palác Sofia vznikl v chátrající několikapodlažní budově. Na každém patře bylo několik bytů a před domem obrovský dvůr s garážemi. Nad nimi byl další obytný prostor. Bylo to opravdu velké místo s kupou možností. Já jsem se tam dostal v době, kdy už squat nějakou dobu fungoval. Původně jsem tam jel ze zvědavosti. Nikoho jsem tam neznal, ale velice brzy jsem se spřátelil a to místo si zamiloval. Netrvalo dlouho a stal jsem se místním squaterem.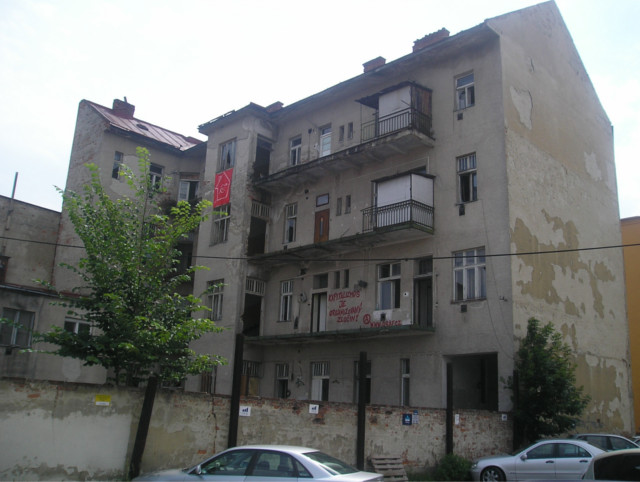 O budovy se staral kolektiv složený převážně z velmi mladých lidí. Směs punks, skejťáků, umělců a anarchistů. Podobně jako u squatu Viktorie, i zde většina lidí měla budovy spíše jako volnočasový klub, než jako prostor určený pro bydlení. Většinou sem chodili po škole či po práci, aby se věnovali kultuře, sportu, politickým aktivitám či jen tak klábosili s přáteli. Přesto, že by prostory pojmuly desítky lidí, bydlela jich tu jen hrstka.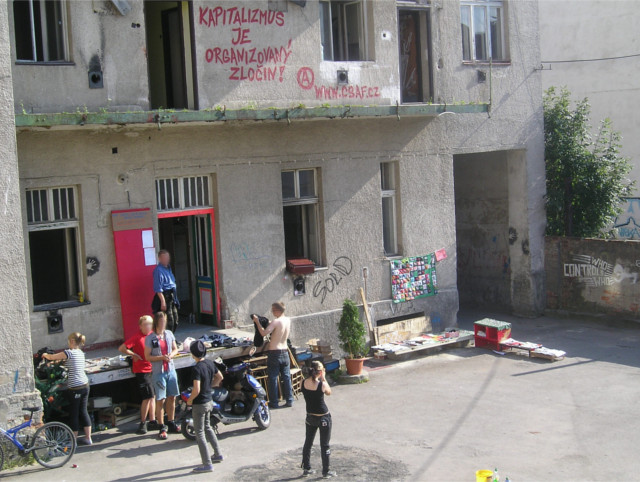 Život na Sofii byl nádherný, ale zároveň dost náročný. Ani zdaleka člověk nemohl využívat standard konvenčního bydlení. Dlouhé měsíce zde nebyla elektřina. Až později se koupil benzinový agregát, který byl ale v provozu jen po dobu kulturních akcí. Svítilo se baterkami a svíčkami. Pro pitnou vodu se zase chodilo na nedaleké náměstí. Tam se stáčala do PET lahví a kanystrů. V zimě se topilo v kamnech na tuhé palivo. To se nakládalo za supermarketem z kontejnerů s odpadovým dřevem. Někdy se také organizovaly kolektivní expropriace paliva z kapitalistických zdrojů.
Na squatě si člověk musí zvyknout, že se mu nedostává toho, co je pro ostatní běžné. Já si zvykl velmi rychle. Vztahy s lidmi, se kterými jsme prostory sdíleli, mi dokázaly dát více než konvenční život v podnájmu. I když se naše představy v mnohém lišily, existoval na squatě silný kolektivní duch přátelství. Ten mi dodával energii a pocity uspokojení. Rád vzpomínám na společné tvůrčí aktivity nebo na debatování u svíček o perspektivách anarchismu či otevřených vztazích. Nezapomenutelné jsou taky folkové koncerty v garáži, vaření na ohni na dvoře nebo spontánní demonstrace poté, co nás uprostřed noci vyhnali policajti ven.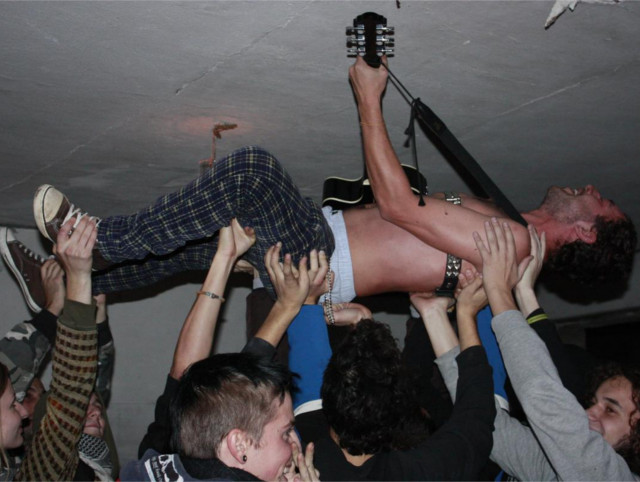 I přesto, že jsem si tento squat oblíbil, moc dlouho jsem zde nežil. Hodně času jsem tu trávil uvažováním o svých životních perspektivách, až jsem došel k závěru, že můj život v Žilině je tak trochu zoufalý pokus uniknout před depresivní realitou v rodném městě. V Mostě mi chyběl podobný druh aktivit, tak jsem za nimi odjel tam, kde existují. Později jsem si ale řekl, že když to jde v Žilině, zvládneme to i v severních Čechách. Vrátil jsem se do Mostu a tam se rozproudila diskuze o potřebě komunitního centra s antikapitalistickým zaměřením. Diskuze dala impulz k tomu, co mnozí mohli později znát jako Komunitní centrum Ateneo. To už je ale jiný příběh.
Stejně jako squat Viktorie, i squat Palác Sofia mi dodal motivaci jít za svými sny a měnit je v realitu. Věřím, že nejsem jediný, kdo to tak má. Velmi rád vzpomínám na tu dobu a obzvlášť pak na některé osobnosti, které jsem na Sofii potkal. Chybíte mi.
Lukáš Borl – únor 2016
Posted: March 16th, 2016 under česky, General, squatting, video.

Comments