(in English) About Lukáš Borl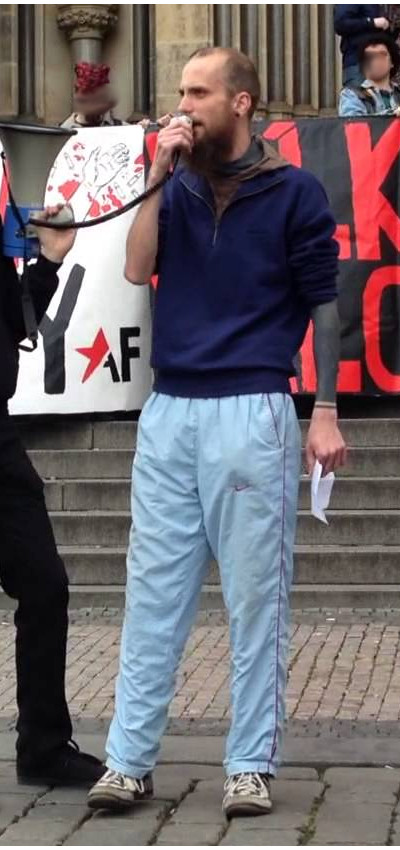 About Lukáš Borl
Lukas Borl was born on March 1st 1982 in the city of Most in Northern Czech republic. He grew up in a family with workers background. He studied high school with electrician major. In this period around 1998 for the first time he met with thoughts of anarchism. Mostly thanks to the collective Activity Cabaret Voltaire (ACV). This collective was active in different places among Czech and beneath its main activities was organizing beneficiary concerts, publishing Cabaret Voltaire zine, publishing and distributing of activists brochures. They also distinctly supported public activities of the anarchistic movement like the protests against IMF and WB meeting in Prague 2000, meeting in memoriam of the Krondstadt uprising, antifacist demonstrations or traditional Maydays. Thanks to ACV Lukas also experienced for the first time the method of blockade while obstructing with other people the construction works of a supermarket at a place of Litvinov park.
Although the collective of ACV was very close to anarchistic thoughts it had very much subculture character. Lukas wasn't interested that much in that and he started to prefer anarchistic communism and class struggle. After breakup of ACV he became a member of the Federation of the social anarchists (FSA) later called Federation of the anarchistic groups (FAS). In these times he was also the provider of the Teahouse & reading room Ametyst in Vtelno close to Most where lots of activities like discussions, screenings and distribution of anarchistic publications were held. After finishing this project he moved his activities mostly to Northeast of Czech where participated in squatting of squat Victorie in Ropice.
After few months he returned to North Bohemia and initiated to create a local group of Czech and Slovak anarchistic federation (ČSAF later Afed ) where he was mainly active as a publisher, squatting supporter and in public actions such as demonstrations and educational meetings.
Since 2009 Lukas is part of the Alerta association which was established in reaction of neonazi provocations at the Janov housing project in Litvinov. At the beginning it was based as antifacist group, later transformed in a federation of groups acting in Most, Prague, Usti nad Labem, Brno and others. The program of this association was developed as clear anticapitalist, inspired in communist tradition of anarchism and also some other directions of nonstate marxism ( left communism, tendency of communization or operaismo ).
Since 2012 he was a part of the Ateneo (a social and community center in Most) collective. This space was a base for many leisure and educational activities for almost three years. It was run collectively without using capitalists principles and without connection to any state institution. It was also base for anarchistic activities for the whole time. For example the Solidarity Network from Most (MSS).
On the 28th of April 2015 he was one of the many anarchists who were arrested in the police Operation Fenix . The police took a lot of personal things from him and showed the injunction for the four apartments he was frequently visiting. They suspected Lukas from foundation and a support of Network of the revolutionary cells (SRB). He was released after two days of arrest but other three anarchists stayed in custody since that (after a year there is still one commrade waiting for the court in custody prison).
In the next months Lukas was under surveillance of the secret police. Under pressure of worries he could also end up in prison for his anarchistic attitude and activities, he decided to go underground. Now the place of his stay is unknown. But he still publishes texts in which he underlines his will to stay part of the anarchistic movement and its activities.
September 4th, 2016, Lukáš Borl was arrested by the police in Most and then taken to the remand prison in Litoměřice. They accuse Lukáš for the foundation, supporting and promoting a movement aimed at suppressing human rights and freedoms. According police he founded a Network of revolutionary cells (SRB) participated in some SRB's events and wrote some SRB's communiqués and published them on the "Asociace Alerta" website. Further police claim that Lukáš have committed violation of possession, damaging property of another, 4 times. Twice during an arson attack on a police car. Once during an arson attack on a shop door. And once by spraying on the wall of Prague prison Ruzyne. Finally also him accused by police for blackmailing the owner of steak restaurant "Řízkárna" and falsification of the document.
Lukas Borl was released on bail today 13. 4. 2017. That means that he will wait for the court outside of the prison walls. It is the first time since the beginning of the operation Fenix no anarchist is in so called Czech republic held in prison.
lukynda( @ )riseup.net