Mýty a realita osmašedesátého ve Francii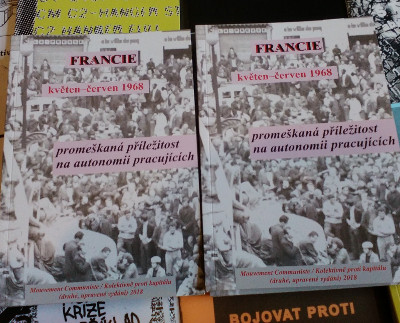 Anarchistické prostředí má velmi často sklon k romantizování určitých událostí a hnutí. Ať už je to ruská nebo španělská revoluce, zapatistické hnutí nebo nejnověji třeba boje v Rojavě, vždy se vynořují mýty, které nám zastírají pohled na realitu v celé její šíři. Považuji za přínosné pro antikapitalistickou praxi, pokud se někdo snaží tyto mýty demaskovat a pohřbít. Díky tomu je možné hledět na věci střízlivěji. Posilovat jejich pozitivní stránky a posouvat se za limity těch negativních. Přesně tuto tendenci jsem vycítil při čtení publikace, kterou v roce 2018 vydala skupina Kolektivně proti kapitálu společně s Mouvement communiste. Titul nese název Francie: květen-červen 1968. Promeškaná příležitost na autonomii pracujících.
Události ve Franci v roce 1968 lze zařadit do výčtu těch, které trpí nánosem romantických iluzí. Bývají líčeny jako revoluční dny s ohromnými úspěchy. Často k učinění takových závěrů postačí povrchní analýzy, které přesvědčení o úspěchu vyvozují ze vysokého počtu zůčastněných a intenzity násilného konfliktu s osbrojenými složkami státu. Analýzy KPK/MC jdou ale hlouběji. Pod povrchem masového hnutí ve Francii vidí překážku v podobě stalinistů, odborů a nejrůznějších levičáků svádějících dělnickou třídu na kontrarevoluční cestu. Vidí, že bitky s policií, jsou sice logickou součástí antikapitalistického boje, ale bez důsledných bojů na pracovišti nemohou ochromit kapitalistické vztahy. Vidí, že počet zůčasněných sám osobě nezaručuje kvalitní obsah a tedy ani možnost dosažení smysluplných cílů.
Na publikaci je zajímavé, že učiněné závěry částečně vycházejí z popisu těch, kteří se oněch událostí sami účastnili. Jejich výklad by šel shrnout tak, že v osmašedesátém ve Francii byla velmi slabá tendence k vytváření autonomních proletářských struktur nezávislých na odborech a státotvorných stranách, které by zároveň šly proti nim. To bylo hlavní příčinou, proč nedošlo na revoluční události, ale k přesměrování bojové energie do aktivit stabilizujících kapitalistický řád. Každému, kdo chce tento pohled více pochopit, vřele doporučuji si publikaci pořídit a přečíst.
Posted: September 6th, 2019 under General, recenze.

Comments