Report ze solidární akce ve Stockholmu
Kousek od infoshopu "Bokcafét" ve Stokholmu v takzvaném Švédsku jsme dostali echo o tom, co se děje v České republice… Viděli jsme Lukáše Borla, který se právě těď skrývá v knihkupectví v sekci poezie. Stále mohutně podporován… Nabídli jsme mu veganskej burgr, kterej určitě ocenil. Mimochodem, pokud ho uvidíte, určitě mu pomozte jak jen budete moct. Naši nepřátelé v modrém, kapitalisti a/nebo nacisti ho ošklivě pomluvili. Tyhle drby o něm jsou lži a my bychom mu měli nabídnout respekt, přátelství a solidaritu.

Po malém obědě s Lukášem jsme se vydali k české ambasádě s malým protestem. Mysleli jsme si, že banery a malá skupinka lidí, kteří ani nekřičí, nebudou tak provokovat. Ale mýlili jsme se.
Už asi po 60 sekundách, si úředníci, placení za to, že se poflakují po luxusních domech, přišli stěžovat na nepořádek, který děláme. Česká ambasáda ve Stokholmu sídlí v dost zastrčené ulici, kde není moc provoz. Přestože kolem nebyl téměř nikdo, kdo by naši akci sledoval, zaměstnanci vypadali dost znepokojeně z demošky odehrávající se před jejich ambasádou. Po několika minutách dohadování, začali strhávat banery ze zábradlí a skoro i z našich rukou. Ale pak se objevila tahle úžasná osoba a řekla jim, že "my máme právo na to tu demonstrovat!". Nikdo se neodvážil zakročit proti ní a jejímu vlastnímu baneru! Takže nás nechali na chvíli na pokoji.
Chtěli bychom taky poslat pozdravy Igorovi. Udělali jsme malou instalaci na trávě před budovou. To se zaměstnancům samozřejmě vůbec nelíbilo. Koukli z okna a naštvaně přišli a okamžitě ji odnesli. Použijou to jako důkaz proti nám při "pokusu o napadení ambasády"? To nevíme…
Fotka člověka, jak stojí na vlajkách je narážka na skutečnost, která byla u soudu použita proti Igorovi. Fotil si ze srandy svou nohu, jak šlape na americkou vlajku, která byla ve skutečnosti rohožkou. Takže si teď taky zasloužíme deportaci?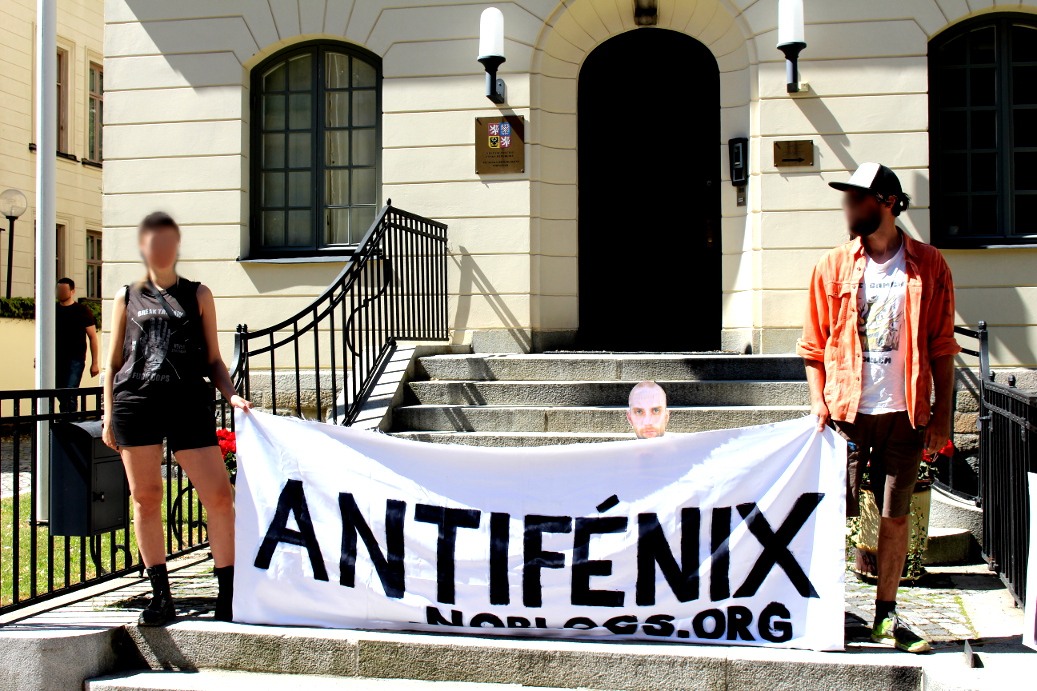 Nakonec chceme poslat pozdravy Martinovi Ignačákovi, který je držen ve vazbě už skoro 14 měsíců. Drží hladovku. I když nemůže slyšet naše výkřiky pro něj až odtud, doufáme, že můžeme poslat energii a sílu.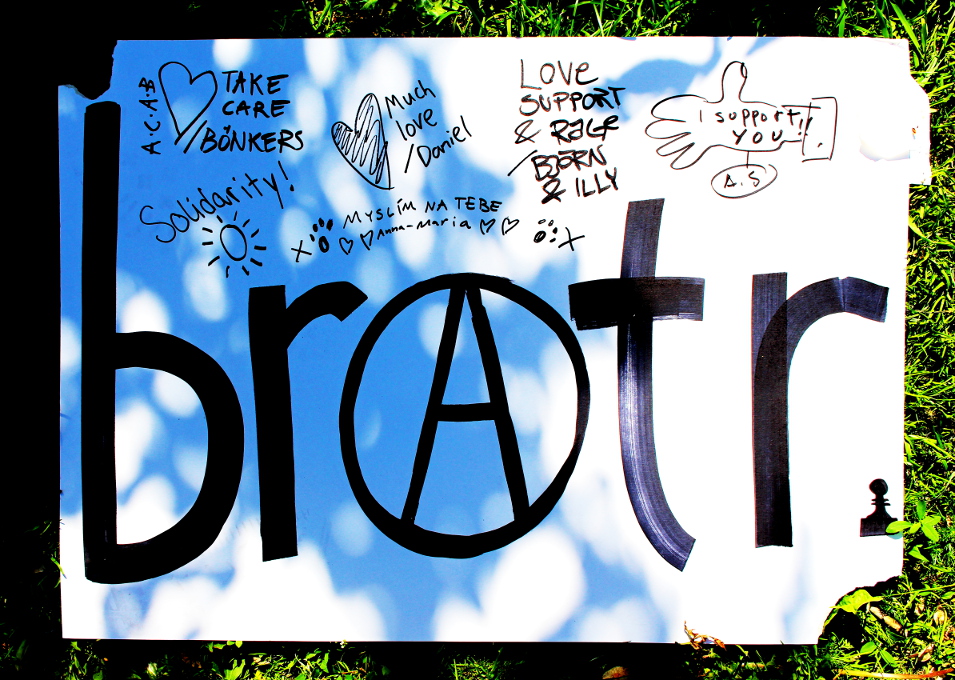 KAMPEN FORTSÄTTER!
Posted: June 28th, 2016 under česky, General, solidarita.
Tags: solidarita, Stockholm, Švédsko
Comments