Report ze solidární akce v Děčíně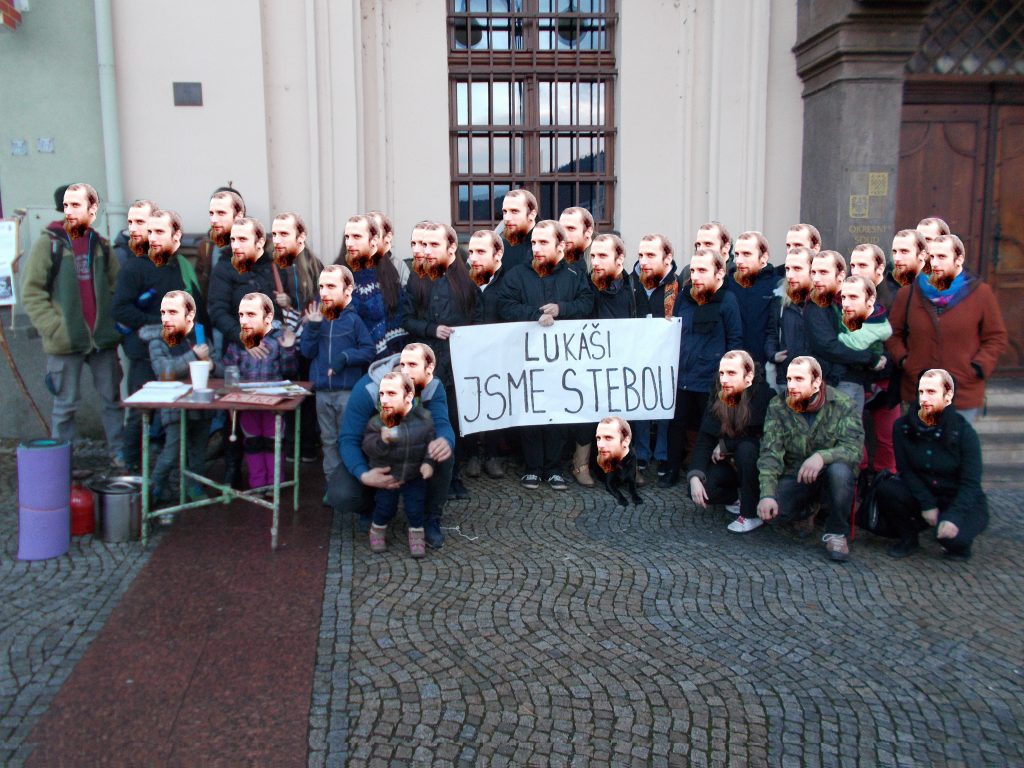 Ve čtvrtek 17. 11. proběhla v Děčíně solidární akce na podporu našeho zajatého kamaráda Lukáše Borla. Sešli jsme se demonstrativně před budovou Okresního soudu, kde zahrály místní, přespolní i zahraniční kapely. Podával se čaj, tiskoviny informující o současné situaci vězněných a stíhaných anarchistů u nás a sbíraly se podpisy na Petici za zákaz dovozu trofejí zvířat do ČR, což posloužilo jako pojistka pro důvod jinak nenahlášené akce. Nebyli jsme si úplně jistí, jakým způsobem šířit pozvánku na koncert aby to nevzbudilo moc pozornosti ze strany fízlů, takže jsme rozlepili pár plakátů, zvali osobně a nakonec jsme podlehli efektivnosti sítě a na poslední chvíli jsme šířili událost po fcb. Přišlo okolo 30 lidí, což považujeme za slušný počet podporovatelů, kteří zůstali po celou dobu a několik kolemjdoucích se zastavilo a zajímalo se. Celá sešlost proběhla naprosto bez problémů, bez účasti policie. Níže uvedený text je přepis jednoho z šířených materiálů, vysvětlující důvod uspořádání akce.

17. listopad se vryl do paměti především jako den boje za svobodu a demokracii. Alespoň do většiny kalendářů a obecného povědomí se zapsala právě vzpomínka na rok 89, kdy na Václavském náměstí v Praze cinkaly klíče. I přes zásahy tehdejší policie, totalitní režim padl a Československo vstoupilo do nového věku. Historie však vzpomíná i na rok 39, kdy během studentských protestů proti protektorátnímu zřízení byli zavražděni dva studenti (V.Sedláček a J.Opletal), následně popraveno 9 vysokoškolských funkcionářů a do koncentračních táborů deportováno na 1200 studentů. Dnes žijeme v době, kdy opravdové morální hodnoty, čestnost a lidskou pospolitost zadupává moc, ignoranství a výsměch. V době, kdy je svět řízen proudem peněz a my jakožto šedá masa konzumentů se nepřímo podílíme na jeho neustálém chodu ve stejném duchu. Mnozí ale nevěří ve falešné hodnoty, které jsou nám od malička předkládány a prezentovány tzv. autoritami, bránícími pouze status quo.
Člověk, který vyvíjel po delší čas svého života aktivitu a snahu přetvářet zajeté struktury nadvlády ve svém okolí s myšlenkou "mysli globálně, jednej lokálně" (spolupodílení se na založení autonomního sociáního centra Ateneo, projekt Mostecká solidární síť a mnoho dalšího – info na webu, i facebooku) sedí právě teď za mřížemi ve vazební věznici v Litoměřicích. Lukáš je anarchista a právě proto, že otevřeně vystupoval proti státu a kapitalismu se dostal tam, kde by nikdo z nás být nechtěl. Ať už je jeho pojetí anarchismu jakékoliv, nemyslíme si, že by měl být takto perzekuován. Není jediný, zřejmě ani poslední. Nechceme z něho dělat mučedníka, věříme, že ani on sám si to nepřeje. Pouze chceme vyjádřit svůj nesouhlas s praktikami státního aparátu (mimo jiné policejní akce Fenix – viz web), který podle současné situace, spíše klade důraz na neustálé zastrašování, přehnanou byrokracii a neochotu přispět ke spoluutváření přátelské společnosti. Zdá se, že se spíše víc a víc přiklání k heslu "rozděl a panuj". Vyjadřujeme proto Lukášovi svou solidaritu, věříme v sílu vzájemné podpory a ne v právo silnějšího.
VEGANSTVÍ není slabost
ABSTINENCE není ubohost
HOMOSEXUALITA není nemoc
LINUX není hackerství
NEPRACOVAT neznamená lenošit
NEVOLIT neznamená lhostejnost
ANARCHIE neznamená chaos
NACIONALISMUS není alternativa
PAMPELIŠKA není plevel.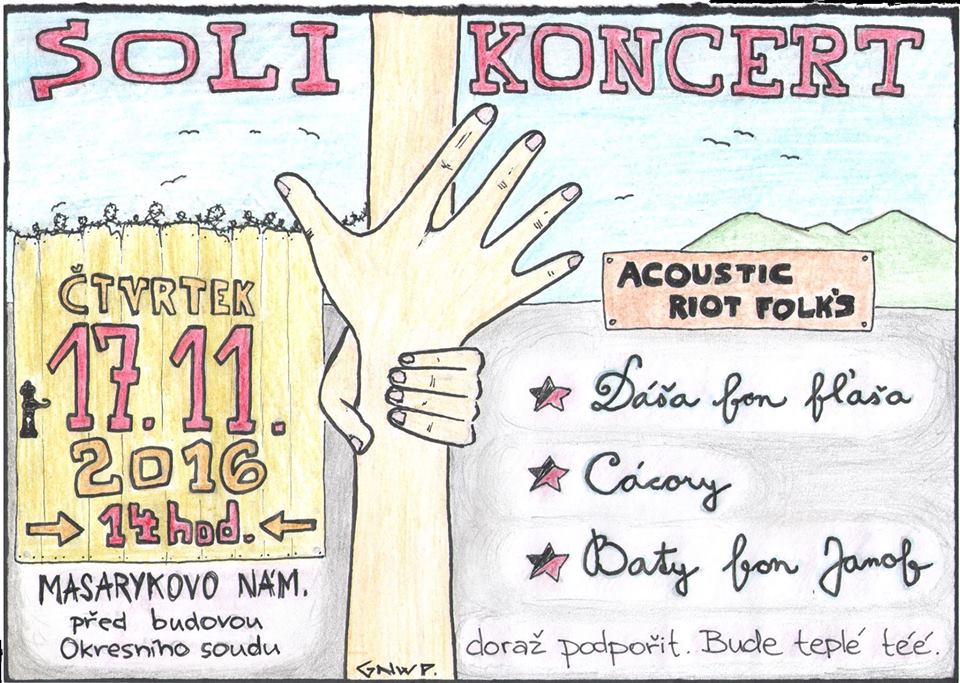 Můžete mi vzít můj život, ale nemůžete mi sebrat moji duši.
Můžete mi sebrat svobodu, ale nemůžete mi sebrat moji duši….
..Dnes zemřu jako jeden a vrátím se jako miliony dalších…
Posted: November 21st, 2016 under česky, General, solidarita.

Comments