Recenze: Střelecká revue
zdroj: mlask.noblogs.org
Střelecká revue je časopis, který asi dobře zná dost těch, co se aktivně zajímají o střelné zbraně. Tato upoutávka je tedy spíše pro ty, co se s tímto tématem teprve seznamují a hledají zdroje informací.

Střelecká revue je jeden z mála časopisů s tematikou střelných zbraní, který lze pravidelně sehnat v běžné obchodní síti s tiskovinami. Nejde tedy o žádnou samizdatovou podzemní tiskovinu a tento fakt se výrazně promítá do formy a obsahu. Nutno uvést, že v některých ohledech dost negativně.

Shrnul bych to v několika bodech:
1) Vášeň či potřeba užívat zbraně je zde zneužita ke komerčním účelům. To je zjevné nejen z přítomných reklam (někdy navíc dost sexisticky zobrazených), ale i z jednotlivých článků, které často vtíravě vybízí ke koupi toho či onoho výrobku.
2) Časopis se obsahem snaží obsáhnout všestranné využití zbraní, asi za účelem zvýšení počtu čtenářů a čtenářek. Propaguje tedy zbraně i pro neakceptovatelné účely: Myslivectví, lov zvířat, vyzbrojování armády a policie nebo využití ve válkách za kapitalistické zájmy.
3) Redakci tvoří osoby s vášní nejen pro zbraně, ale často také pro velmi pochybné postoje. Ty pak časopisu dávají nepěkné ideologické zabarvení. Výjimkou nejsou třeba různé xenofobní a islamofobní komentáře. V editorialu srpnového vydání se také můžeme setkat s vychvalováním Donalda Trumpa nebo s označováním protestujících proti zasedání G20 v Hamburku za drancující internacionální lůzu. Vlastně ale takové bláboly nejsou v revue zase tak překvapivé, když mezi pravidelné přispěvatele patří i tací jako Petr Blahuš (info o něm zde a zde), který byl jako přísedící u soudu v kauze Fénix (Antifenix).
S ohledem na zmíněné negativní stránky Střelecké revue, doporučuji si tento časopis pořizovat, číst ho, ale neplatit za něj. "Drancující internacionální lůza" již dávno popsala mnoho způsobů jak něčeho takového dosáhnout. Těm, co se na to necítí, rád na požádání daruji své již přečtené výtisky.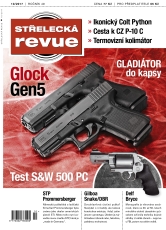 Přestože časopis obsahuje mnoho balastu a sporných věcí, je v něm i dost užitečného. Právě proto je vhodné ho číst. Člověk, který si chce pořídit střelnou zbraň jistě ocení možnost nastudovat informace o tom, z jakých možností může vybírat. Nikdo si přeci nechce pořídit něco, co sice pěkně vypadá, ale z hlediska jeho individuálních potřeb je to nepoužitelné. Ze stejného důvodu není od věci studovat i rubriku o historii zbraní, i když občas se může zdát, že některé modely jsou konstrukčně natolik vzdálené moderním zbraním, že nemá smysl jim věnovat pozornost. Obzory mohou zajisté rozšířit také rozhovory a recenze v rubrice "nové knihy". Některé recenzované tituly sice odkazují k fetišizaci válečných zbraní, jiné však ke čtivu, které stojí za pozornost. Každý jistě zvládne profiltrovat obsah, tedy oddělit hodnotné od balastu.
Střelecká revue má i svoje webovky streleckarevue.cz. I tam je možné narazit na zajímavé články.
Nezapomeňme ale, že samotná četba z nikoho schopného střelce neudělá.
– Recenzi zpracoval Lukáš Borl, přítel "Drancující lůzy"
Posted: October 7th, 2017 under česky, General, recenze, zbraně.

Comments