Recenze: Horečka – Pavel Pecka
zdroj: mlask.noblogs.org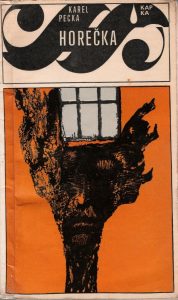 "Horečka" je další kniha s vězeňskou tématikou, kterou jsem přečetl při pobytu ve vazební věznici. Příběh pojednává o vězni Bohdanovi, který počátkem padesátých let minulého století utekl z kárného tábora.

Bohdan rozhodně neměl dobré vyhlídky do budoucna. S pomocí spoluvězně proto využil příležitosti a upnul se k naději na změnu. Jenže útěk byl jen začátek všeho. Následovala celá řada událostí plných napětí a nečekaných zvratů. Útěkář nejprve musel najít cestu z nebezpečné zóny střežené policií. Podařilo se mu to, ale při nečekaném setkání s jistým mužem se dostal do potyčky a zabyl ho. Rozhodl se pokračovat v cestě na kterou se vypravil a brzy se mu podařilo najít úkryt u kamaráda. Tou dobou už ale vedení věznice zuřilo a hledalo jakékoliv informace o tom, jak se vězni podařilo utéct, kdo mu pomohl a kde se skrývá. Pátrání se nejvíce dotklo Bohdanova kamaráda Lukáše. V kárném táboře na něj padlo největší podezření a byl vystaven hrubým vyšetřovacím metodám.
Na řadu přichází otázky lidské vůle, zrady, solidarity a schopnosti vzdorovat iv hodně nepříznivých podmínkách. Lukáš zatvrzele mlčel a nevyzradil nic, co mohlo napomoc k dopadení Bohdana. Jeho postoj však pro něj přichystal tragické následky. A nejen pro něj! Také Bohdan a další postavy dopadly dosti zle. Co se jim stalo nebudu rozvádět, abych neprozradil příliš mnoho o příběhu. Ať se jím každý pročte sám, protože to určitě stojí za to. Příběh byl napsán v roce 1967 a kniha se dá snadno obstarat v antikvariátech. Já ji poznal díky mému otci, kterému jsem za to vděčný.
– recenzi napsal Lukáš Borl ve vazební věznici Litoměřice 22. 11. 2016.
Posted: September 9th, 2017 under česky, General, recenze, z vězení.

Comments