Počátek odhalování tajných fízlů
Od konce devadesátých let minulého století působím v anarchistickém hnutí. Vždy jsem si byl vědomý toho, co to znamená. Velmi brzy jsem pochopil, že být anarchistou znamená být v permanentním ohrožení. Na počátku jsem spatřoval nebezpečí hlavně v neonacistech, kteří nikdy neváhají sáhnout k hrubému násilí. Časem mi ale došlo, že s mou aktivitou roste i zájem policie o mou osobu. Policie se tak brzy stala mnohem větším problémem než náckové. Jako aktivní protistátní živel jsem se velmi rychle dostal do jejich hledáčku. Netrvalo dlouho a já se smířil s tím, že na "protiextrémistickém" oddělení PČR mám složku, do které měsíc co měsíc přibývají fotky, videa a nejrůznější informace související s mou osobou.

Anarchisté jako nekompromisní odpůrci státu pochopitelně vždy budou vystaveni zvýšenému zájmu policie, která státu kryje záda. To je věc, se kterou všichni tak nějak počítáme. Kdo mě zná, toho jistě nepřekvapí, že pro mě "počítat s tím" rozhodně neznamená pasivně to přijmout. Vím-li, že mě policajti sledují, pak je to pro mě výzva. Nikoliv k tomu, abych zalezl do díry a skrýval se jak ustrašená myška. Je to výzva, abych přešel do ofenzívy.
Její počátek se časově kryje se zahájením operace Fénix. Tato policejní kampaň začala 28. 4. 2015. V policejní síti tehdy uvízlo společně se mnou mnoho dalších lidí. Já a další jsme měli štěstí, protože nás brzy pustili. Čtyři soudruzi jsou ale stále ve vazbě a čekají na soud.
Pro mě operace Fénix začala, když policie násilně vnikla do komunitního centra Ateneo, kde jsem tou dobou spal. Následovala série domovních prohlídek na čtyřech místech, kde jsem se často zdržoval. Bylo mi sděleno podezření ze spáchání trestných činů založení, podpory a propagace hnutí směřujícího k potlačení práv a svobod člověka. Policie mé zadržení odůvodnila podezřením z údajné příslušnosti k Síti revolučních buněk (SRB). Vina nebyla prokázána a žádné obvinění nebylo sděleno. Následující den jsem byl propuštěn. Fízlové si ale nechali mnoho věcí, jako jsou počítače, disky, publikace aj.
Během jejich pokusů o výslechy mi začalo být jasné, jak moc mají své pohledy ponořené do mého života. Věděli nejen o věcech týkajících se aktivismu. Chrlili také spoustu informací osobního rázu. Jako třeba s kým a kam jezdím na milostné výlety, komu píšu básně atd. Už tehdy ve mě začala zrát myšlenka, že je potřeba začít ty hajzly monitorovat a zveřejňovat o nich informace aby ztratili sebedůvěru a pocit bezpečí. Uběhlo ale ještě několik týdnů, než se myšlenka transformovala v činy.
Zlom nastal v době, kdy jsme se s přítelkyní vraceli z báječného výletu a najednou nám došlo, že jsou na nás nalepený tajní fízlové. Přestupovali s námi z vlaku do vlaku. Tahali se za náma přes celý města a krajinu. Nešlo udělat krok, abychom u toho necítili jejich přítomnost. Z velmi příjemného výletu se rázem stalo extrémě nechutné lejno, které se člověku přilepí na patu a nejde se ho zbavit. Nasranost rostla. S ní rostla i touha z této situace vymáčkout aspoň kapku jedu, co se použije proti fízlům. Padl návrh na to začít si je fotit.
Bylo nám jasné, že takové policejní nasazení není jen tak nějaká nárazovka. Tedy, že to budou zkoušet dál. A taky že jo. Druhý den jsem skoro celý den prochodil v Praze s tajnýma policajtama za zadkem. K jejich smůle tentokrát s foťákem na krku. Podařilo se mi postupně odhalit čtyři fízly a jedno auto, co používali na přesuny.
Prvního jsem zaregistroval u Libeňského mostu. Předtím než se tak stalo, slezl jsem na silnici pod mostem a chvíli se tam procházel. Pak jsem se za jedním rohem ukryl a čekal, jestli se někdo vynoří. Vyplatilo se to. Prošel tam kluk, co vypadal dost podezřele. Zatím jsem si ale nebyl jistý, že to je policajt. Pokusil jsem se ho vyfotit s tím, že zkusím ještě pár léček a buďto se mi to potvrdí, nebo vyvrátí.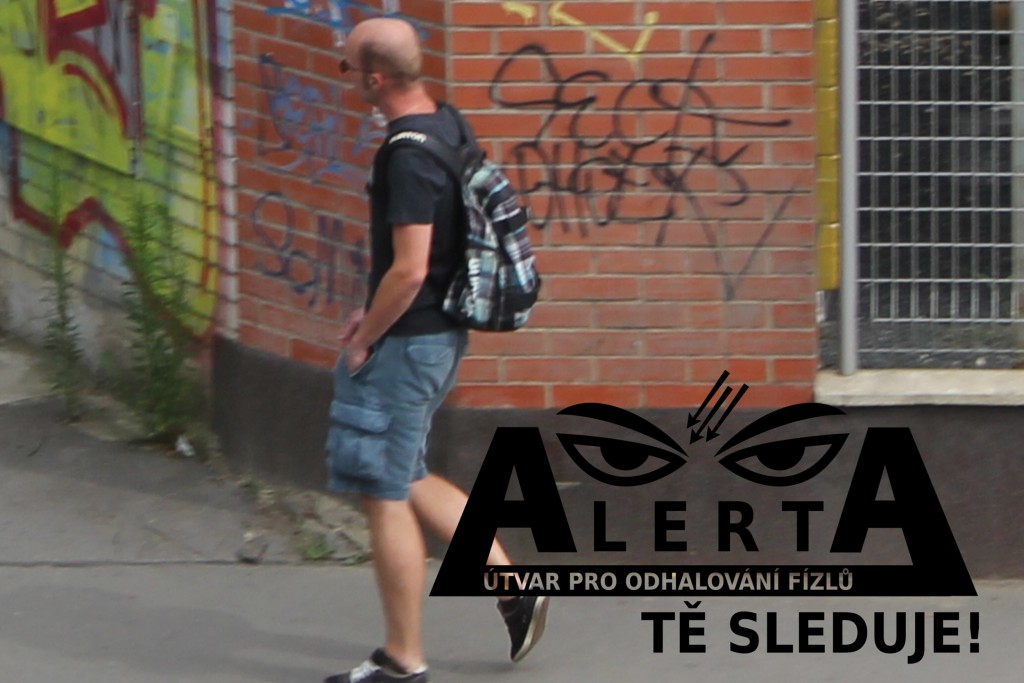 První fotka byla focená z dálky a z boku. No, prostě nic moc kvalita. Asi o hodinu později jsem ho ale dostal do pasti na Palmovce. Tam jsem se proplétal různými okolními uličkami. Po chvíli bylo jasné, že mě opravdu sleduje. Když jsem si byl stoprocentně jistý, šel jsem pomalu dolů na nástupiště metra. Poslední ověřování mělo proběhnout právě tam. Chtěl jsem nechat odjet metro v obou směrech. Pokud by tam zůstal, vyjel bych po eskalátorech nahoru. Když by vyjel za mnou, cvaknul bych ho na foťák.
Nešlo to ale úplně tak, jak bych si přál. On totiž za mnou do metra nešel. Trochu zoufale jsem se na nástupišti opakovaně ujišťoval, jestli tam třeba není někde zalezlý. Nebyl, ale zato tam byl jeho kolega, kterého jsem před tim už nad zemí taky zahlédl. Dost nápadně mě sledoval, což nešlo opravdu přehlédnout. Když odjely metra obouma směrama, on tam stále byl. Jako ocásek za mnou vlezl na eskalátory. Když dojel nahoru, já už byl připraven. Fotil jsem ho dost neskrytě. I přes to, že mě viděl, tak neřekl nic. Tvářil se, že nic nevidí.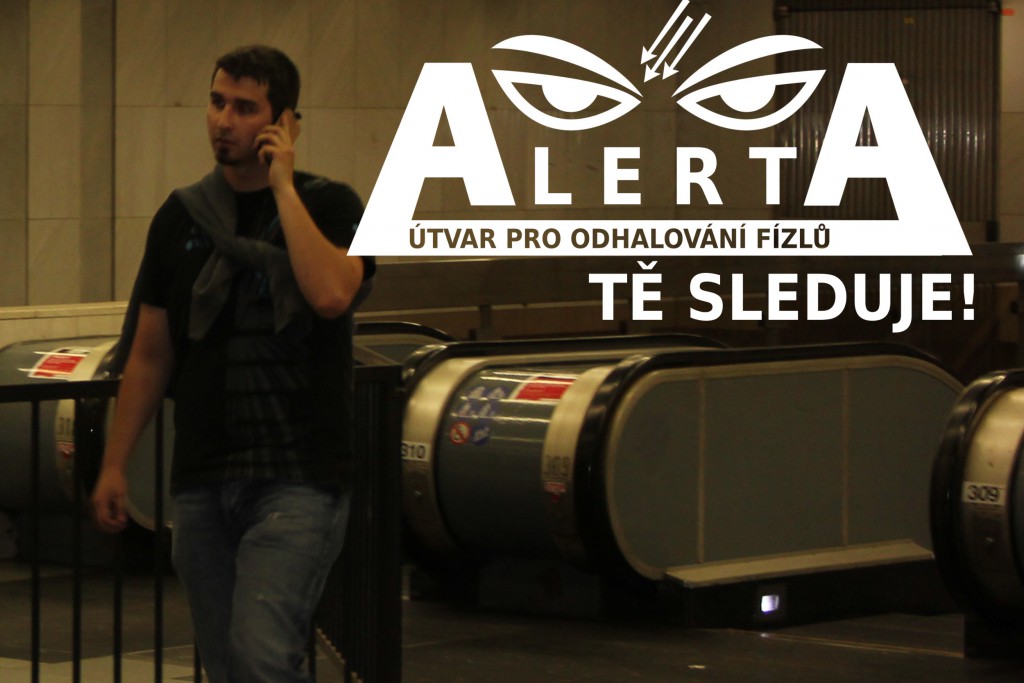 Pak jsem vylezl nahoru na křižovatku a po jsem tam zahlédl toho prvního policajta. Trochu jsem se obával, že po druhé stejná léčka neklapne. Nakonec jsem to ale risknul a vyplatilo se to. Úplně stejný scénář jako s tamtím fízlem.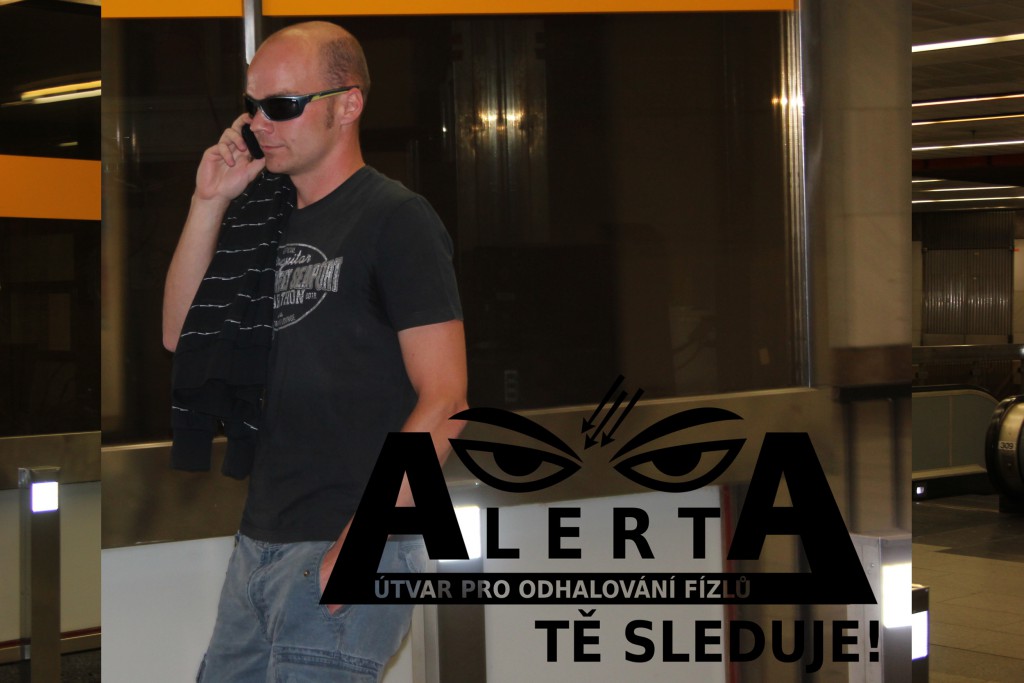 Mísil se ve mě velký nával radosti s trochou strachu. Obával jsem se, že mě budou chtít sebrat a fotky smazat. Řekl jsem si, že nastal čas na přesun. Hupsnul jsem do první tramvaje směr Ohrada. Byla celkem narvaná a situace tedy dost nepřehledná. Těsně před odjezdem do ní naskočil jeden chlápek s brašnou v ruce. Hodně se snažil, aby mu tramvaj neujela, a tím vzbudil moje podezření. Po chvíli jsem ale začal pochybovat a sám sebe přesvědčovat, že to je jen nějaký dělník, co spěchá z práce domů. Přesto jsem zůstal obezřetný a nakonec se to vyplatilo. Byl to skutečně tajný policajt.
Asi hodinu jsem se proplétal uličkami na Žižkově a on byl pořád za mnou. Přestal jsem pochybovat a začal plánovat, jak ho cvaknu na foťák. Občas jsem se zaseknul za nějakým rohem a čekal, až dorazí za mnou. Několikrát prošel kolem mě, ale mý fotky ho braly buďto zezadu nebo rozmazaně. Pak jsem se dostal ke "koněvce" a chystal se na další pokus. Jsem skrytý za rohem a čekám až dorazí. Koukám přes ulici a najednou mi dojde, že jsem vidět v odrazu skla výlohy naproti. Posouvám se tedy asi o 40 metrů níže. Tam se ukrývám u večerky za jakýmsi hadrem co tam je natažený. Ten odraz ve výloze naproti, nakonec využívám proti fízlovi. Vidím v odrazu každý jeho krok. To mi umožňuje dokonale načasovat focení. Cvakám ho v momeňtě, kdy prochází kolem a kouká se mi přímo do foťáku.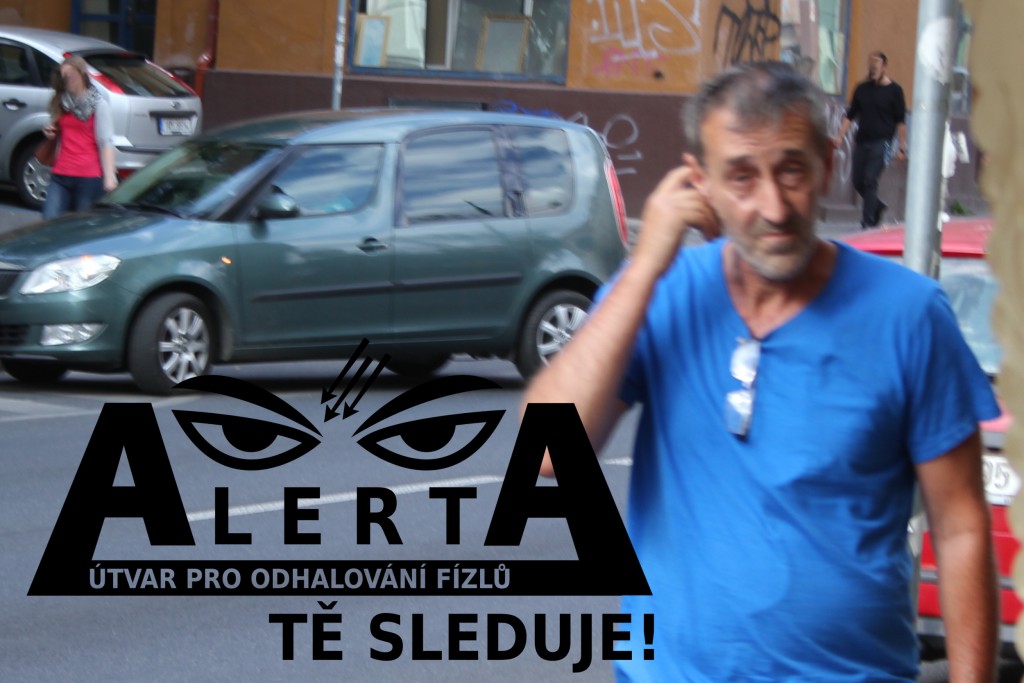 Další úlovek je v kapse a já jdu na chvíli posedět na Kliniku. Mám pocit, že jsem je setřásl. Po půlhoďce odpočinku se dám do pohybu. Jdu do Salé, kde má být promítání filmu. Po pár krocích se jdu vymočit ke křoví. Když se vracím na chodník, tak mě zase míjí ten policajt s brašnou. Několikrát se na něj snažím čekat s foťákem v ruce. Většinou na poslední chvíli uhýbá pohledem. Pak se mi dokonce dost záhadně ztratí. Záhada je ale brzy objasněna. Sedí za rohem v autě ještě s jedním tajným policajtem. Okamžitě cvakám auto tak, aby byla vidět značka.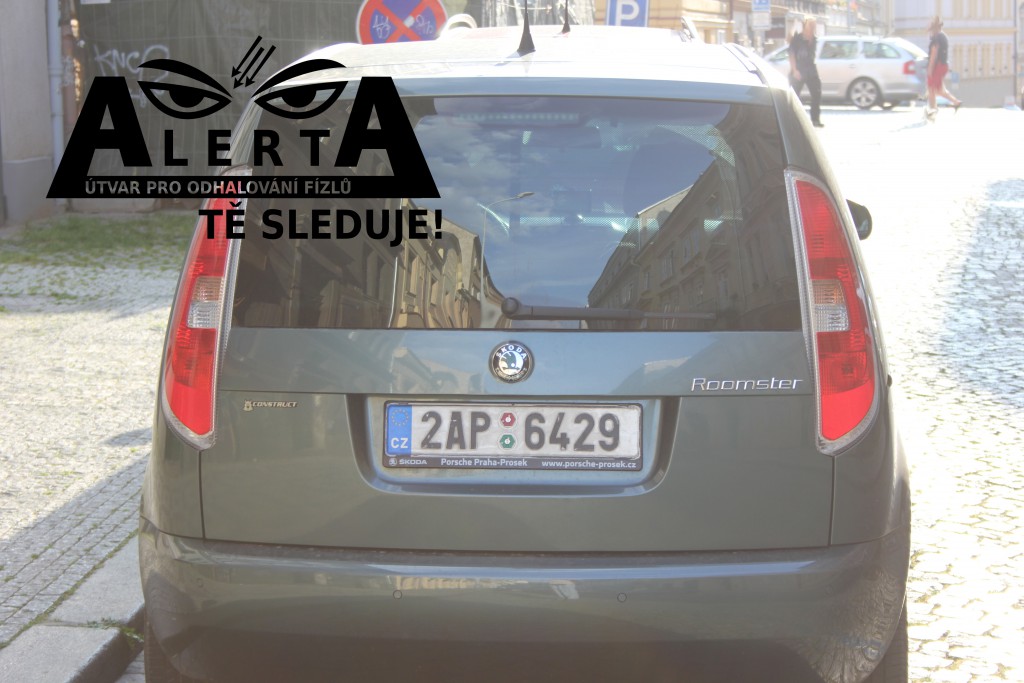 Nejprve zezadu a pak si stoupám před něj. Oba policajti uvnitř se snaží zakrývat rukama obličeje. Štve mě, že je nemůžu kvalitně vyfotit. Zároveň mě ale těší pohled na to, jak se zmateně kryjí a neví co dělat.
Nakonec startují auto a prchají.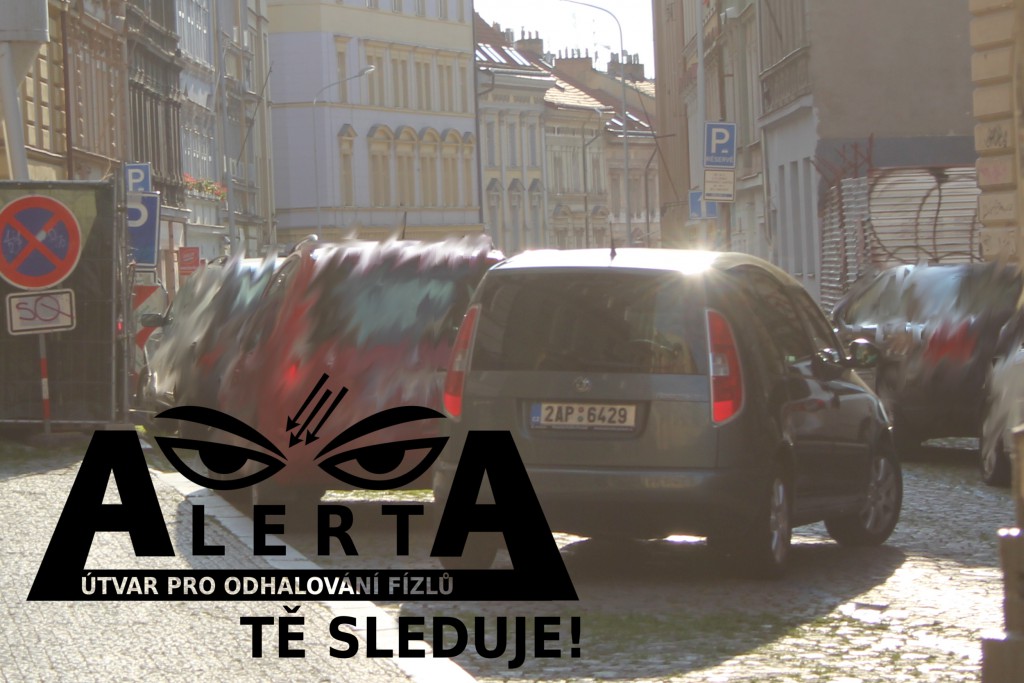 Já se s pocitem vítězství přesouvám do Salé. Snažím se přehrávat si v hlavě vše, co se událo. Současně se taky připravuju na další bitvy.
Lukáš Borl
Napsáno v období od 15. do 20. července 2015
Posted: August 7th, 2015 under česky, General, zápisky buřiče.

Comments