"Lov" na demonstraci a odhalení dalšího policejního auta
Od doby, kdy jsem pod intenzivním dohledem policie, se čas od času procházím městem, abych zjistil, jestli jsou na mě nalepený. Pokud zjistím, že ano, tak je fotím. Tohle ráno jsem to zkoušel zase, ale bez úspěchu. Buďto zrovna nebyli v terénu, nebo prostě byli šikovnější a já je neobjevil. V ten samý den se v Praze konala demonstrace. Nejdřív jsem vůbec neměl v plánu tam jít. Pak mě ale napadlo, že tam bude mnoho "tajných". Řekl jsem si, že bych se tam mohl ukázat, nechat je na sebe nalepit a zavést je někam, kde si je pak hezky nafotím.

Když přijdu na místo, je mi jasné, že to tu je profízlované. Jeden z prvních, kterého registruju, je ten, který mě nedávno zatkl na solidární demonstraci před vazební věznicí na Ruzyni. Opřeli se do nás tehdy nejdříve uniformovaní policajti a chtěli naše doklady totožnosti. Já ho neměl a nadiktoval jsem jim své údaje. Běžně ověření totožnosti trvá chvilku, ale tentokrát se to nějak vleklo. Začalo to být podezřelé a já znervózněl. Trochu jsem tušil, že chtějí buďto mě, nebo někoho jiného sebrat. A taky že ano! Za pár minut už mě dva policajti v civilu berou k autu, šacují a odvážejí na stanici. Nejdříve tvrdí, že potřebují ověřit mou totožnost. Brzy jdou ale s pravdou ven. Vezou mě na podání vysvětlení. Chtějí se vrtat v několik týdnů staré záležitosti, kdy jim na zdi věznice přibylo několik nápisů jako "Smrt státu" a "Touhu po svobodě, represe nezastaví". Nakonec si oddechnu, že jde jen o tuto drobnou věc. Odmítám ale cokoliv vypovídat a po chvíli mě pouští ze stanice ven.
Tehdy mě dost naštvalo, že se mi povedlo nafotit jen jednoho z těch policajtů v civilu, co mě sebrali. O to víc mě potěšilo, že toho druhého teď potkávám znova na demonstraci. Evidentně si mě pamatoval a hned jak mě zbystřil, začal si mě točit na kameru. Brzy jsem se i já dal da akčního módu a nafotil si ho.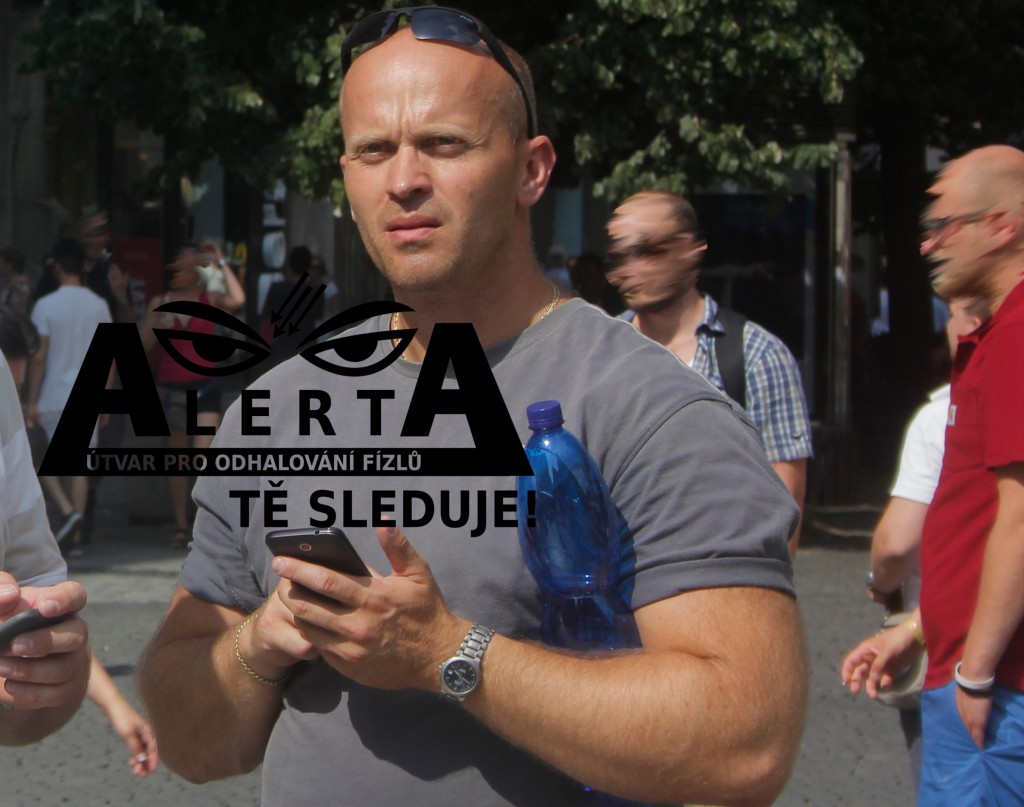 Společně s ním fotím i spoustu jeho kolegů. Fotil jsem je dost neskrytě a vysloveně se jim smál do obličeje. Bylo vidět, že je to dost točí. Mě zase pohled na jejich nervózní křeče v obličejích náramně těšil.
Ten den mě ale čekal ještě jeden úlovek. K večeru si odbíhám do obchodu pro něco k pití. Nejdu však na lov fotek, a dokonce si ani neberu foťák. Později se ukazuje, že to byla chyba. Po chvíli chůze v dálce vidím auto, které dost divně přibržďuje u křižovatky. Je daleko na to, abych mohl vidět detaily, ale dost blízko, abych viděl, že z něho vystupuje chlápek, co se hrne za roh. Přidávám na tempu a mířím přímo k němu. Mezitím zmizí auto a já si pamatuju jen barvu a to, že je to audi. Chlápek stojí za rohem u vchodu baráku. Dělám, že si ho nevšímám a vstupuju do obchodu. V hlavě mi ale probleskne, že jsem toho parchanta už viděl.
Když vyjdu z obchodu, už tam není. Je mi ale jasné, že je na blízku. Vracím se tedy na byt, beru foťák a jdu znova do ulic. Hned za prvním rohem se objevuje ten stejný policajt v civilu. Vystupuje zase z toho auta a míří uspěchaně opačným směrem než já. Za nejbližším rohem odbočuju a čekám s foťákem v ruce. On ale nepřichází, a tak začínám mít pocit, že léčku prokouknul a stáhnul se. Jdu mu tedy naproti. Vyjdu z pozarohu a on má zrovna nakročíno ke mě. Překvapil jsem ho a on v panice prchá k autu.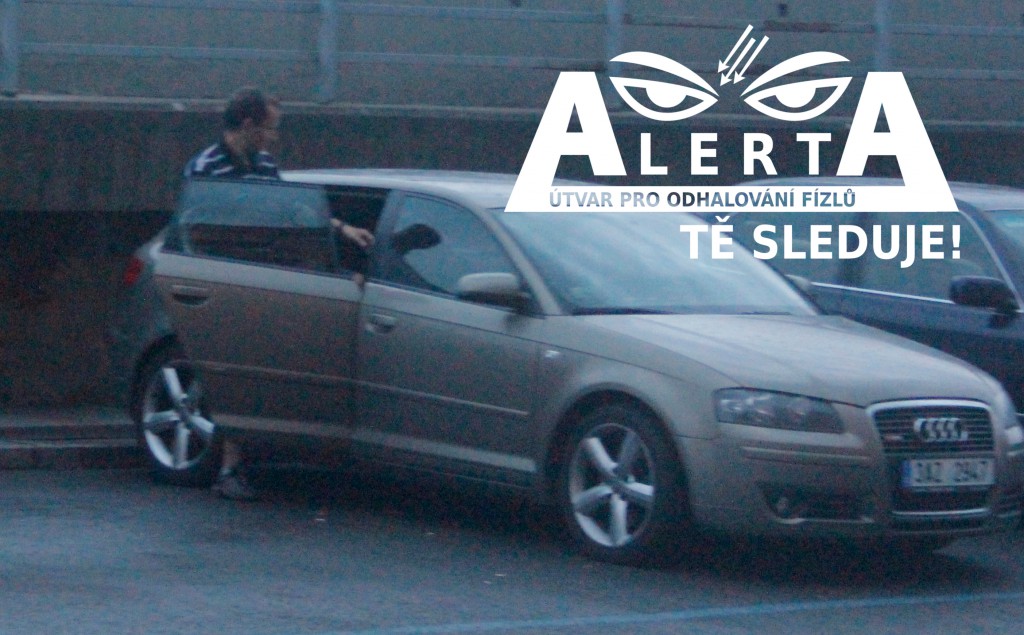 Bez váhání jdu za ním a snažím se ho fotit v momentě, kdy vstupuje do auta. Jak později zjišťuji, naneštěstí jsou tyhle fotky dost mizerné. Pořídím ale i několik, kde je dost dobře vidět to auto. V něm sedí ještě další tajný policajt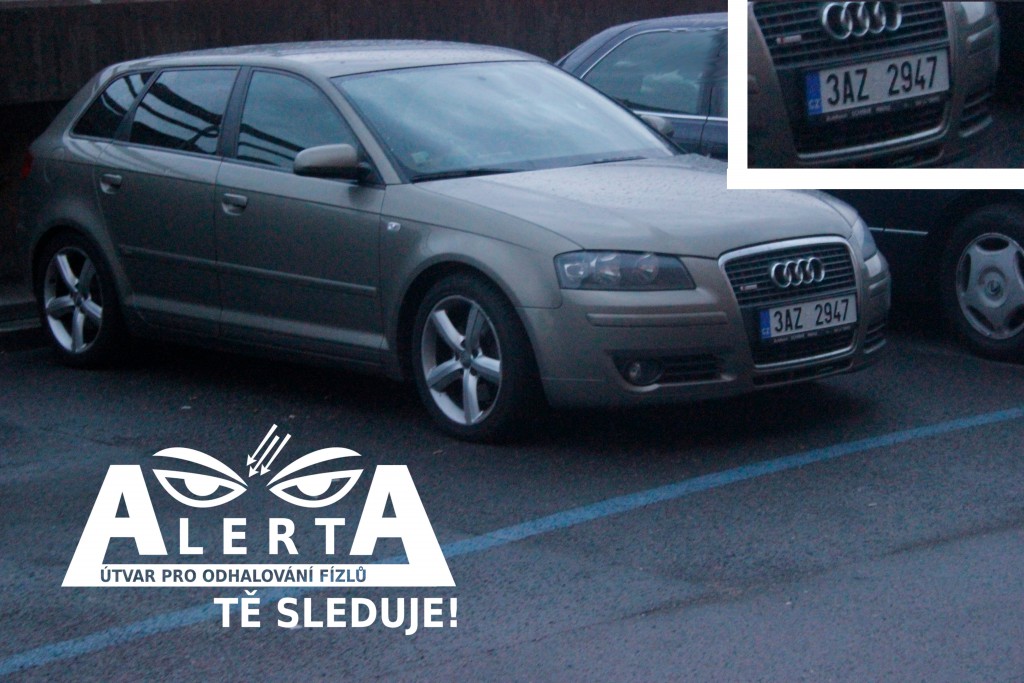 Oba se snaží krýt, abych je nenafotil. Po chvíli zmatků dost rychle odjíždí pryč.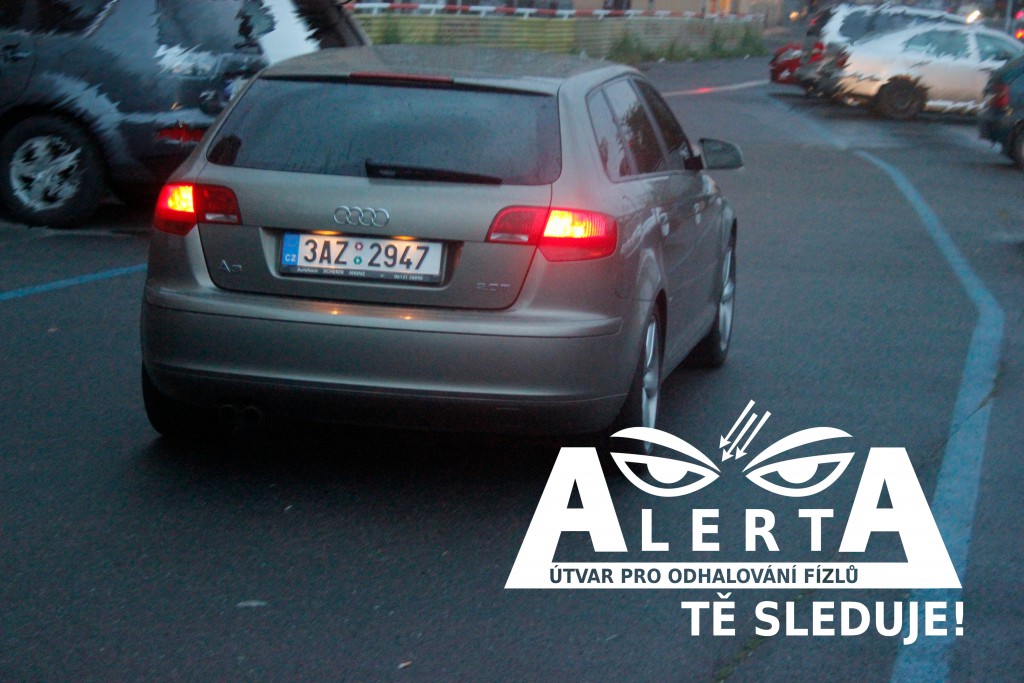 Celou tu zmatenou situaci sleduje chlápek se psem. Ptá se mě pak, o co tady jde. Naznačuju mu, že si fotím chlápky, co mě sledují. On na to odpovídá: "Já sem si říkal, co to je za divný lidi. Už dva týdny tady pořád parkujou a mě to přišlo dost podezřelý". Než se naše cesty rozejdou, dává mi chlápek tip ještě na několik dalších aut, co se tady s těma fízlama střídají. Aspoň mám stopy pro další lovení fotek.
Lukáš Borl

Sepsáno 19. až 20. července 2015
Posted: August 21st, 2015 under česky, General, úvahy, zápisky buřiče.
Tags: operace Fénix
Comments