Inspektor Kluzo opět zasahuje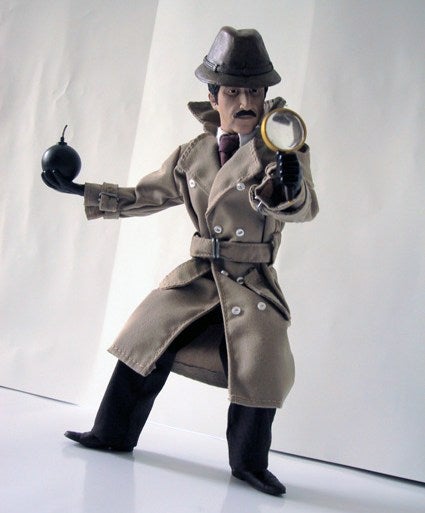 (31.8.) Po necelých čtyřech měsících, kdy fízlové oslavili výročí operace Fénix řadou neoprávněných a hlavně nevítaných návštěv v různých bytech po celé republice, se opět vrátili, tentokrát v plné polní, do jednoho brněnského bytu.

Celá situace byla strašně komplikovaná a nepřehledná. Zejména proto, že fízlové co chvíli říkali něco jiného a mlžili o tom, co vlastně chtějí. Následuje autentický přepis vzpomínek jedné z účastnic celého absurdního kabaretu.
Vracíme se spolubydlícím z nákupu. Parkujeme půjčeným autem před domem a všímáme si dvou fízlackých aut. "Snad né u nás", děláme si legraci. Beru z auta část nákupu a nesu ji do vchodu. Obracím se zpátky ven, abych spolubydlícímu řekla, že "jsou ale fakt u nás v domě!" Jdeme tam, postává tam několik chlapů v uniformách v takových těch vestách se spoustou kapes a věcí. Slyšíme je říkat něco o nějakých potížích se zvonky. Taky vídíme jak kolem nich zrovna chvíli před náma prochází couchserferky co jsou u nás návštěvě. Ptají se jich jestli tam bydlí a ještě na cosi a pak je nechávají jít. Odkládám nákup ke dveřím, protože jsem si myslela, že ho nejdřív vyložíme z auta jako vždycky, a vracím se k autu, ale spolubydlící pokračuje dál. Dohadují se o tom kdo je a o občance. Auto je zavřené tak jdu taky vynést nákup až nahoru. Potkávám spolubydlícího na schodech. Mluví s fízlem o majiteli domu, dává mu číslo na správce. (Nechápu proč, přece ho museli kontaktovat už při minulých akcích, takže to nejspíš mají.) Jdeme nahoru k našemu bytu, fízlové za náma.
Ověření totožnosti, naše občanky. "O co tady jde?" "Ověření totožnosti, na to máme právo." "Nemám ji u sebe." "A slečna tady?" Máme plné ruce. "Pojď nejdřív dovnitř," opakuje spolubydlící. Jdu dovnitř. "Kam jdete, dejte nám tu občanku." "Jdu si dát zmrzlinu do mražáku." "O co tady jde?" "To vám povíme potom." "Tak my si opíšeme vaše služební čísla." První se zdráhá, ale další nám je sami diktují. Dáváme občanky. Zdánlivý klid. "Máme podezření, na neoprávněný pobyt." "Máte číslo na majitele, můžu vám ukázat i nájemní smlouvu." "My si to ověříme." Jeden si opisuje moji občanku do mobilu a čeká, až se něco načte, "nějak to trvá," stěžuje si kolegovi. Vrací mi ji, a bere si druhou, tam je to nějaký zasekaný. Spolubydlící ukazuje smlouvu. Hlavní fízl se ptá, proč máme v chodbě na proti dveřím plakát s nápisem "Nemluvte s policií." Dostane jen strohou odpověď: "to vám nebudu vysvětlovat."
Mezitím se Couchserferky ptají, o co jde, ale já nenacházím anglická slova, abych jim řekla těch pár zmatečných informací co (ne)vím. Přichází další spolubydlící, proklouzne kolem nich do bytu jak myš. Ptají se, která ze spolubydlících na smlouvě to je, ale nezavolají si ji, nechcou po ní občanku. Fízl si prohlíží smlouvu, baví se s náma o tom jak je to velký byt, kolik platíme nájem. Majiteli volali, aby si to ověřili, ale budou se s ním chtít sejít, čekají na něj, říká jeden. Ověřování spolubydlícího v mobilu nějak trvá. Několikrát nás ujišťují o tom, že se nic neděje, že po nás už nic jiného nebudou chtít. Zní to tak hezky. Je to jejich práce, musí to dělat, i když je to nepříjemný, říkají. No jasně. Dostávám klíče od auta, abych odnesla zbytek nákupu. Cestou dolů potkávám fízla, jak se baví se sousedkou a kdesi výš slyším bouchání na dveře, co se tu sakra děje říkám si. Už když jsem dole u auta, mě dožene spolubydlící, kterému vrátili občanku. Beru nákup a jdu nahoru. On jede vrátit auto.
Myslím, že venku před domem stojí další fízl. Už nevím, jsou všude. Přijdu k našim dveřím. Pořád tam jsou. Je zavřeno, klíče mám vevnitř ve věcech, které jsem tam stačila odnést. Pokládám nákup a chci se vrátit dolů pro prací prášek, ale když jsem o patro níž, slyším, jak na nás zvoní a otvírá jim spolubydlící, která předtím proklouzla do bytu. Běžím ji zpět na pomoc. "Kolik vás tam je." "Já nevím, já jsem teď přišla z práce," říká jim. "Nikdo jiný tam není?" Kříčí, štěkají. Už nejsou zdvořilí a neomlouvají se. "Kolik vás tam je?" "No vždyť jste nás viděli," beru si slovo. Spolubydlící se zase vytratí do pokoje. "A kdo tam je ještě nebo kolik vás tam je nebo jestli tam nikdo není." "Nevím, ježiš, vždyť jste mě teď viděli přicházet a celou dobu s váma mluvím, tak jak to mám vědět." "Kolik vás tam je? Vy a kdo ještě." "No vždyť jste nás všechny viděli přicházet, mě, spolubydlící, ty dvě slečny, se kterýma jste mluvili." "Můžu se jít podívat do vnitř?" A je to tu. Prý že už nic nebudou chtít. "A máte na to nějaký papír?" "Kolega vám to vysvětlí. Zajdi pro něj," říká druhému.
Stojím před bytem. Postupně se tam shromažďují všichni ti fízli. "Zapni kameru." Už nevím, jak mi to řekl, ale prostě řekl, že chce dovnitř. Ptám se na nějaký papír od soudu. Nepotřebuje papír. Něco o důvodném podezření (adrenalin není dobrej pro paměť), že na to mají právo. Říkám, že to už tady bylo a ukázalo se, že podezření nebylo. "Byla jste poučena, buď nás pustíte dobrovolně, nebo to půjde násilím," říká nějaký nasraný, co stojí vedle mě. "Teď tady to podezření je, můžete si stěžovat." "To jsme udělali." "A jak to dopadlo?" "Nevím, asi nijak." "Kolega vám říká, že tady to podezření je, buď nás pustíte dobrovolně, nebo něco něco násilím," vyřvává furt dokola tenhle hnusák. Přemýšlím, jestli se s něma vydržím hádat, než se vrátí spolubydlící, ale už tak mám pocit, že jsem řekla víc, než jsem měla. Mám se nechat spacifikovat a nechat je ať si tam dělají co chcou nebo je tam pustit a aspoň všechno vidět? Dneska už lituju, že jsem nechtěla zjistit jaké to je, když použijou násilí. "Jenom se tam podíváte, jestli tam nikdo není, nic víc?" "Ano." "Nebudete nic odnášek, prohledávat?" "Ne." "No dobře." Vcházím, oni za mnou. "Jenom se tu podíváte, nebudete nic brát?!" "Ano, my nejsme zloději paní." Stojíme v předsíni u dveří. První jde do kuchyně a pokoje kde jsou couchserferky. "Policie, kontrola nevim co, nevim co," proč proboha mluví česky, když se před chvílí s něma bavili a zjistili, že jsou cizinky a nerozumí. Přecházím dál do chodby, otvírám dveře od spíže jak realitní agentka:"tady je špajz." "Otevřete všechny skříně." Otevřu dvě, pak se do bytu začnou hrnout ostatní. Ten první otvírá dveře od záchoda a koupelny, nahlíží tam. Zastaví u dveří do pokoje. Tak přejdu ke dveřím od pokojů, abych tam mohla jít s nimi. Ale nikdo nikam nejde, nervozně všichni postáváme na chodbě. "No tak podte sem," komanduje je ten odvážný zlý policajt. Krokujou, řadí se ke dveřím od pokojů. "No tak honem, ty pojď sem." "A já jdu s ním?"(nějaký zmatený) Stojí u dvěří do pokojů seřazení po dvojících. Pánové nejsou tak suverénní jako agent Petr a jeho kumpán minule. "No dětě tam, na co čekáte, to to děláte poprvé nebo co. No tak." Dva policajti se nejistě sunou do mého pokoje, ohlíží se. Copak si vážně myslí, že tady někdo je? Řeší závěs v mým pokoji, "mám tam vestavěnou skříň," říkám jim. "Čisté," vrací se. Další dva do dalšího pokoje, rozhlíží se, dokonce se shýbá pod stůl a zírá? Co tam jako vidí? "Čisté," vrací se. Další dva do pokoje ke spolubydlící, "dobrý den, něco něco." "Pojďte, klidně…" "Čisté," znovu překontrován záchod. "Tam už jsem se díval." Ještě skříně. "Co je tady?" "Skříně." "To měla otevřít slečna." "Co je tam nahoře?" "Taky skříně," otvírám. "Ne tam nadtím, za tím závěsem." "Nevím, tam jsem se nikdy nedívala, nedosáhnu tam." Oni taky ne, svítí tam baterkou. Asi nic. Čisto. Odchází. Pan zlý je zase hodný a omlouvá se, že obtěžovali.
Nutno podotknout, že tentokrát byli pánové slušní (na rozdíl od minulé návštěvy familiérního agenta Petra, co o hledaném podezřelém z terorismu mluvil jako o "Lukinovi" a jeho "vtipném" kolegovi, co by si dal matchu). Atmosféra byla ale o dost nepříjemnější, protože byli po celém domě a nikdo nevěděl, o co jde a co chcou, to se totiž pořád měnilo. A to, že už vím, že na to, aby šli dovnitř nejspíš nemají právo a řeknu jim to, mi taky bylo k hovnu. Prostě ACAB, protože byť to můžou být v civilu (i ve službě) slušní lidi, jakmile jsou v uniformě a dostanou rozkaz udělat zmrdovinu, tak ji udělají a to, že jsou slušní, poznáte leda podle toho, že se vám při odchodu omluví, že obtěžovali.
Posted: September 2nd, 2016 under česky, General.

Comments