Another response on the call for International Solidarity
By the infoshop "Bokcafét" in Stockholm, in so called Sweden there was an echo of what is going on in Czech Republic…  We saw Lukas Borl, who is currently hiding in the "poetry" section of the book shop. Still riding on the strong stallion of solidarity… We offered him a vegan burger, which I am sure he appreciated. By the way, if you see him, make sure you help him in any way you can. He has been strongly discredited by our enemies in blue, capitalists and/or nazis. The rumors about him are false and we should offer our respect, friendship and solidarity.
Well well, after the little lunch with Lukas, we head off to the Czech embassy for a little protest. We were thinking that some banners and a little group of people wouldn't be so provocative, not even shouting, but we where wrong.
Already after about 60 seconds, the officials getting payed for hanging out in the fancy building came out to complain on the mess we were causing. The Czech embassy in Stockholm is situated on a very low-traffic, almost hidden street. Though there were almost no spectators around, the employees seemed very troubled to have a demo outside of their embassy. After a few minutes of arguing, the embassy people started to rip the banners off the fence and almost from our hands. Well, then this amazing person showed up and told them off, that "we do have a right to demonstrate here!". No one could fight against her and her home-made banner! So the officials let us alone for a while.
By the way, we would also like to send out greetings to Igor. We made a little art installation on the grass in front of the building. This wasn't welcomed at all. The employees looked out of the window and went outside with angry steps and took it off right away. Will they use it for evidence against us for "trying to attack the building"? We don't know…
The picture of a person standing on the flags is a hint to one of the things brought up in the court against Igor. He had taken a funny picture of when he is stepping on the American flag, which was actually a doormat anyway! Do we deserve getting deported for this now?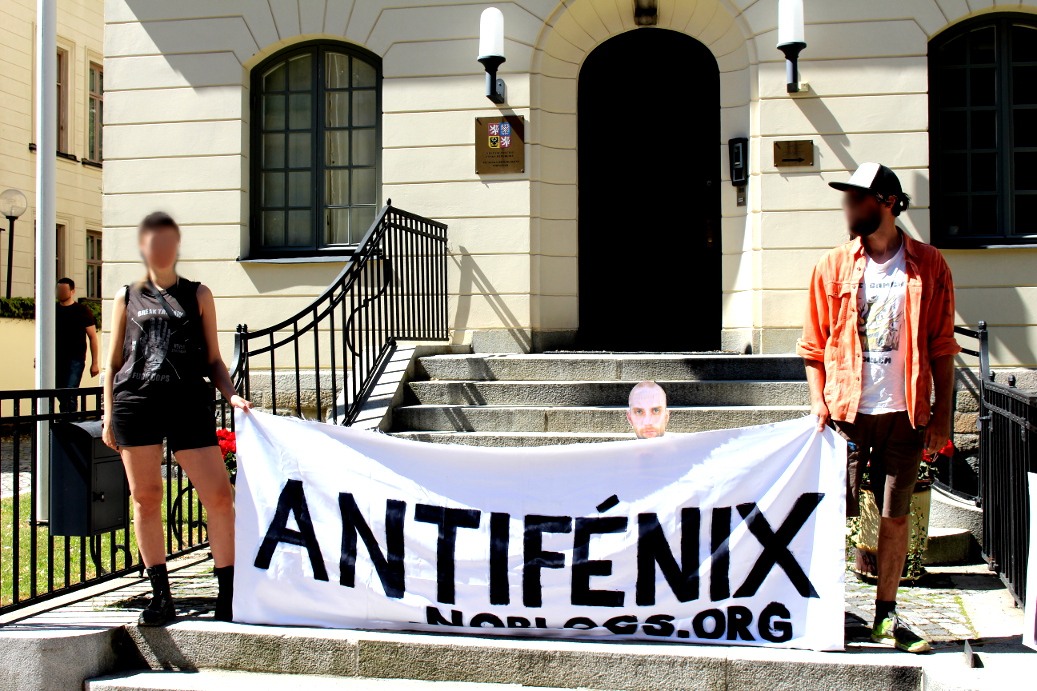 Lastly, we want to send our greetings to Martin Ignačák, who has been in custody jail for almost 14 months by now. He is on a hunger strike. Even if he cant hear our shouts to him from here, we hope we can send some energy and strength.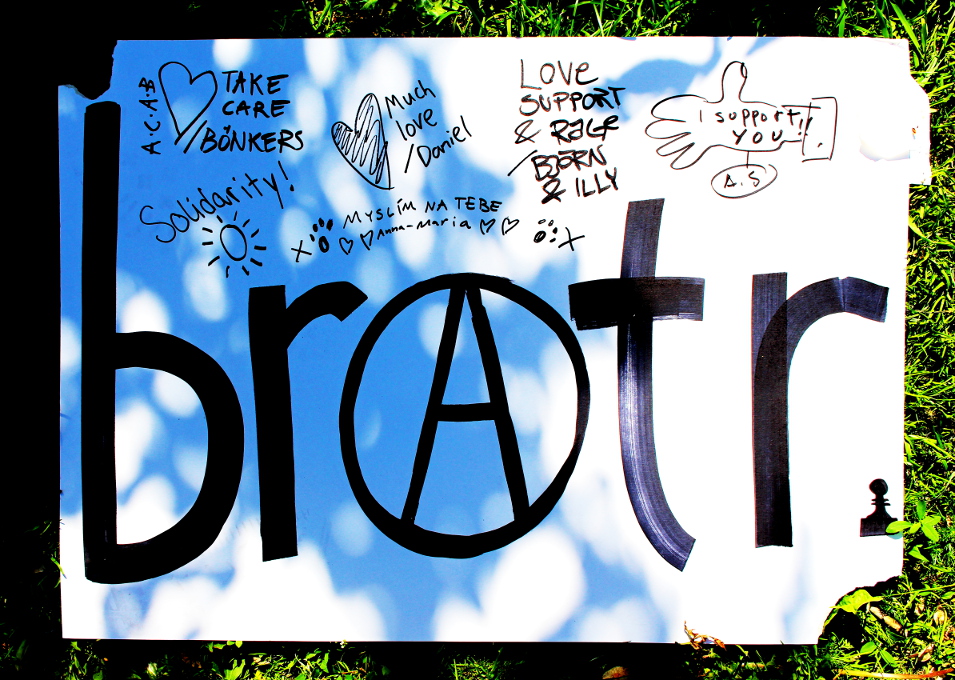 KAMPEN FORTSÄTTER!
Posted: June 28th, 2016 under english, General.
Tags: solidarity, Stockholm, Sweden